Oral Surgery
We understand the importance of dental health and want to help you achieve your perfect smile. At Magnolia Family Dental Care we offer various restorative services such as implants, Invisalign, extractions, or even emergency treatment for Teeth Whitening! 
Dr. Jackson completed an Advanced Education in General Dentistry in General Dentistry Residency in Albuquerque, NM. where she expanded her knowledge on comprehensive patient care as well as surgical procedures while expanding her sedation dentistry skills with more than just cosmetic work done through these organizations' missions trips abroad or within our borders here locally.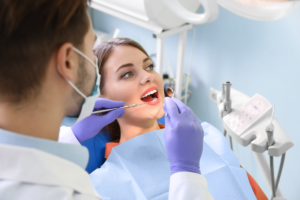 Magnolia Dental Services
Dental Implants 
At Magnolia Family Dental Care, we use dental implants to help address a number of oral health problems. They are most often used when someone has lost their tooth or had it removed due the severity and extent damage that was present in its place; with proper care you may notice them lasting up near fifty years! One of the many benefits of dental implants is that they leave the surrounding, healthy teeth unaffected. Dental Implants can be used to correct singular teeth without negative impacts on the rest of the mouth.
Dental implants also benefit the health of the jawbone. When a tooth is missing or damaged, the jawbone can become weak. This can lead to further damage to the remaining teeth. The use of dental implants restores strength and integrity to the bone structure, supporting both the damaged tooth and the ones that surround it.
Tooth Extraction
 Tooth extractions can be a very normal outpatient procedure that is performed to remove the patient's teeth completely from its original placement in their jaw bone. This surgery improves dental health and preserves it, making this an excellent choice for those who are preparing or experiencing problems with tooth decay/dentures! A patient who has had their tooth extracted will feel relief when they learn that there is another solution to the pain and discomfort. If you come in with an infected or badly damaged mouth, we offer a much more thorough treatment than just removing your outer layer of teeth—we go right down into the root canal area so no other problems arise from this procedure later on.
Wisdom Teeth Removal
 Wisdom teeth are a third set of molars many people develop in their late teenage years or early twenties. The development can cause problems if the existing teeth aren't well aligned and there is crowding within your mouth, which makes this procedure all that much more important for those who have it happen at these times.
Oral Surgeon Experts
You're in for a great dental experience when you come to our South Tulsa dentist office. We take pride in making sure that everyone, from children to adults have comfortable and painless visits every time they come into the establishment. Call us today so our team can provide all the necessary information on how best to fit these treatments into anyone's life.