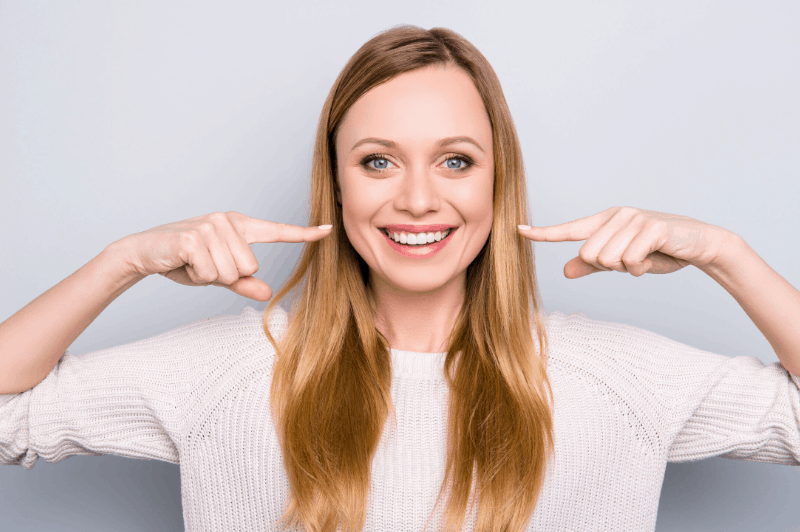 18 Jun

Who Is Tulsa's Best Teeth Whitening Dentist?
Magnolia Family Dental Care is Tulsa's Best Teeth Whitening Dentist
Teeth whitening is a common cosmetic dentistry treatment that many people get throughout the year. Teeth whitening will not only make your teeth look clean and cared for, but it will also help you to feel confident in your smile. When scheduling your teeth whitening appointment, or any dental treatment or procedure, it's important to choose a dentist who is experienced and has a proven track record of producing great results.
So, who is Tulsa's best teeth whitening dentist? Magnolia Family Dental Care located in South Tulsa is Tulsa's best teeth whitening dentist. We provide professional care during the teeth whitening process that will be effective yet safe for our clients. Getting your teeth whitened by your dentist can be much more effective than buying whitening strips at the store; at Magnolia Family Dental Care, we believe that providing these cosmetic dentistry services can help improve our clients' quality of life.
Many people have heard of teeth whitening and even tried it by purchasing whitening strips from the store. If you've never gone to the dentist, you may be wondering what to expect when you schedule your appointment to get your teeth whitened. Keep reading to learn more about teeth whitening.
Teeth Whitening By a Dentist VS. Do-It-Yourself Products
Whitening your teeth can make you feel more confident in your smile, whether you purchase whitening strips from the mall or if you go to your dentist to get the treatment done. You may be wondering if one option is better than the other when it comes to whitening your teeth. Both options can their benefits and their downfalls; keep reading to see the differences between getting your teeth whitened by a dentist versus purchasing DIY teeth whitening products.
Going to the Dentist to Get Your Teeth Whitened
When you go to get your teeth whitened at the dentist, the dentist will use a peroxide bleach to break up stains and whiten your teeth. The peroxide that the dentist uses may be stronger than the peroxide found in whitening strips that you buy at the store. This means that your teeth could be shades whiter visiting the dentist compared to using DIY products. To learn more about Magnolia Family Dental Care's teeth whitening procedure, view our service page here.
The dentist will use a protector to cover your gums before applying the bleaching product to your teeth. A special light may be used to speed up the process and make the whitener more effective.
When you get your teeth professionally whitened by a dentist, the time between treatments is usually one year. While everyone is different and this timeframe can vary per person, it would still be considerably less compared to the number of white strips you use on your teeth to get the same effect.
Most insurance policies do not cover cosmetic dental procedures, including teeth whitening. This means the client will have to pay anywhere from $500 – $1,000 depending on the dentist and the products used. While the treatment will be effective for a year, that is still a lot of money to come up with to get your teeth whitened.
Pros
Teeth can be shades whiter compared to whitening strips
Treatment will last for one year
Safety and security of treatment done by a trained professional
Cons
Teeth whitening by a dentist can be expensive
If you talk to many people who get their teeth whitened by a dentist, they will all say that the treatment is worth it and it lasts a while longer compared to purchasing whitening strips over and over again. People also like the security of having a trained professional handle the chemicals and treat their teeth compared to doing it themselves.
DIY Teeth Whitening Products
The most popular do-it-yourself teeth whitening product is whitening strips you can purchase at any convenience store. Most whitening strips use the same peroxide chemicals that dentists use to whiten teeth, except the peroxide percentage can be lower in whitening strips.
To use whitening strips, you would apply the side of the strip that has the whitening gel to your teeth, then set a timer for the time recommended on the box. These strips usually have to be used multiple times a day and multiple days in a row to get the same effect as teeth that were professionally whitened.
The shade of white that your teeth gain from these products will eventually wear off. You may have to re-whiten your teeth a few times a year; however, doing it to often is not recommended. One negative effect that teeth whitening strips can have is that they damage the enamel of your teeth due to over-exposure to the peroxide products.
Whitening strips are more appealing to people due to their lower prices. You can usually find a box of whitening strips for under $50. A box like this would also contain a large number of strips, so you don't have to keep purchasing more.
Pros
Cheaper than getting your teeth professionally whitened
Can whiten your teeth at your home on your own time
Lasts for about 6 months
Cons
Not as effective as a professional whitening your teeth
Can cause damage to your teeth and gums if not used correctly 
Overall, if you don't want to spend the money to get your teeth whitened professionally, whitening strips are an effective alternative option. Many people use whitening strips and see great results.
Foods/Products to Avoid That Will Stain Your Teeth
One reason people get their teeth whitened is that their teeth have become darkened and stained due to the foods they eat and the products they use. Here is a list of food, drinks, and products that tend to stain your teeth:
Tobacco
Tea
Berries
Coffee
Red Wine
Dark Sodas
Soy Sauce
Tomato Sauce
Curry
Sports Drinks
Candy
If seeing this list makes you depressed because you can no longer have your cup of coffee in the morning… don't worry! These products will only make a significant difference in the color of your teeth if they are consumed excessively. If you feel like your teeth are becoming stained due to one of these foods, simply cut back on your consumption.
Sugary foods and drinks are especially bad for your teeth. Sugar is high in acid, which can eat away at the enamel of your teeth. It's important to be aware of the number of sugary foods you are consuming on a daily basis, as this can play a big role in your oral health.
Other Ways You Can Help Your Teeth Stay White
There are other ways you can help your teeth stay white besides limiting your consumption of certain foods. Brushing and flossing have the most impact on your oral health and the whiteness of your teeth. To help maintain the color shade of your teeth, brush at least twice a day and floss at least once a day.
Brushing and flossing your teeth removes any plaque, acid, and bacteria that may be attacking your teeth. Many of the foods in the list above have acids that will attack your teeth and cause them to become stained. By brushing your teeth after consuming one of these foods, you can help combat stains on your teeth.
Can My Dental Veneers Be Whitened?
If you've had other cosmetic dentistry treatments, you may be wondering you you can still get your teeth whitened. Porcelain veneers, fillings, implants, bonding, and many other cosmetic treatments cannot be whitened. This is due to the fact that the peroxide used to whiten your natural teeth will not work on the products used for artificial teeth, like porcelain or composite resin.
If you normally get your teeth whitened but are in need of one of these procedures, ask your dentist to use a material with a whiter shade for your veneers or implants. The dentist will usually match the color of the material to the shade of your teeth, but if you plan on whitening your teeth, ask if they can make the material a few shades whiter. To know more about the cosmetic dentistry services that Magnolia Family Dental Care provides, click here.
Magnolia Family Dental Care is a premier dentist serving the Tulsa metropolitan area. Owned and operated by Dr. Melissa Jackson, Magnolia Family Dental Care provides a wide range of dental solutions for the community. They can help answer your questions about your dental health and guide you towards being more confident in your smile. Find out why Magnolia Family Dental Care is the best dentist in Tulsa by clicking here.